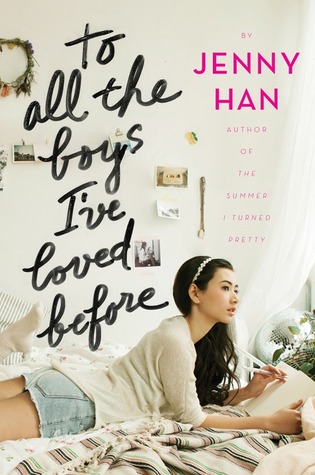 Release date:
April 15, 2014
Author links:
Goodreads
-
Twitter
-
Website
Publisher:
Simon & Schuster Books for Young Readers
Pages:
369
Description (from Goodreads):
To All the Boys I've Loved Before is the story of Lara Jean, who has never openly admitted her crushes, but instead wrote each boy a letter about how she felt, sealed it, and hid it in a box under her bed. But one day Lara Jean discovers that somehow her secret box of letters has been mailed, causing all her crushes from her past to confront her about the letters: her first kiss, the boy from summer camp, even her sister's ex-boyfriend, Josh. As she learns to deal with her past loves face to face, Lara Jean discovers that something good may come out of these letters after all.
I quite rarely reread books, but because I was dying to read P.S. I Still Love You and didn't really remember the details of To All the Boys I've Loved Before, I thought it would be good to give it a reread before I moved to the second book in the trilogy.
I read To All the Boys I've Loved Before right around the time it was released in 2014 and couldn't put it down. I gave it glowing five stars and a rave review. When I picked it up for reread almost two and a half years later, I was slightly scared of my possible reaction. Would I love it as much?
Well, ladies and gentlemen, I can tell you that it was just as awesome as I remember it being, and I think I might have liked it, even more, this time around.
I love the idea of writing letters to get over something. For Lara Jean the letters represent getting over a guy, but I think you could as easily write letters like that about something else. It is extremely interesting to see how Lara has grown from those letters she has written and how she has changed as a person.
While I love the romantic aspects of the book, my favorite thing about this book is the representation of Lara Jean's family relationships. She has two sisters, Kitty and Margot, and while she loves them equally, her relationships with them are quite different. Kitty is the younger sister that has pretty much been raised by Lara Jean and Margot while Margot is the wise older sister who takes a leap and leaves her family behind to attend college in Scotland. Margot's departure, while not unexpected, changes the family dynamics and Lara Jean has to adapt into the role of not only a sister, but also someone Kitty can look up to. While their father is around, there are some things girls just find easier to talk about with their sisters.
The book presents two possible love interests for Lara Jean -- Peter and Josh. Peter is the popular guy. Josh is Margot's ex-boyfriend. While Lara Jean finds herself thinking about these both guys, I wouldn't say this book really has a love triangle, because like I said, at the end of the day this book is more about the family dynamics and Lara Jean's growth as a person when she finds herself from a new situation. So if you are someone who does not like love triangles I think you can still give this one a go.
After rereading To All The Boys I've Loved Before I cannot wait to see how Lara Jean's story continues. Like I said in my original review, I think this book could have been standalone with a slightly ambiguous ending, but I won't complain about the chance to get to know more about these wonderful characters.
!!LOOK AT HOW GORGEOUS THE COVER OF THE THIRD BOOK IN THE SERIES IS!!